Date: October 9th (Tues) or 10th (Wed)
Time: 9am to 4pm. Class commences at 10am
Venue: BeBe Bold 25 Elton st, Lismore, NSW 2480
Cost: $200 covers Tuition morning & Afternoon tea + Lunch
We are very pleased to be hosting Susan Briscoe the Master of Sashiko and author of the "Ultimate Sashiko Source Book" here in Lismore for two, one day workshops on the 9th and 10th of October 2018. Susan has a wealth of knowledge and a genuine passion for all forms of traditional sashiko and Japan which she will happily share.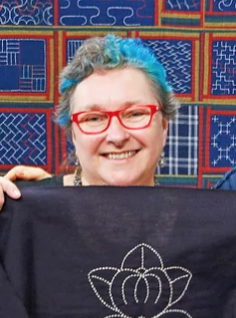 The workshop will focus on Susan's sashiko techniques. She will explain how to mark, handle and sashiko stitch traditionally using larger patterns such as a corner fan, a kamon (family crest) and moyozashi (pattern sashiko) designs.…..Places are limited so please contact us as soon as possible via email or phone. Details below
Susan Briscoe is a leading expert in the traditional Japanese sewing technique, Sashiko. Susan has published numerous patchwork, sashiko and quilting books and while here in Australia she will be introducing her new book on sashiko.